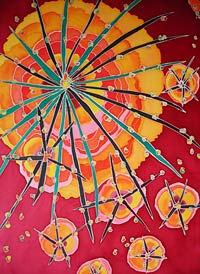 Silk painting is a form of textile art which involves painting onto silk. The silk is used as the "canvas" for the painting. Although silk is a delicate fabric, it can be used to create bold, contemporary paintings.
The process of silk painting involves a number of stages. The silk is initially stretched over a wooden frame. The artist draws directly onto the silk using a water based gutta to outline the subject of the painting. The gutta is allowed to dry and then the silk paints are applied.
Silk painting provides the opportunity for the paint to flow and blend on the fabric. When the painting is dry, it is removed from the wooden frame and is heat set on the reverse side. The silk is washed to remove any transparent gutta. The silk is then pressed and stretched in preparation for framing. The original paintings produced by "Vibrant Silk" are developed using this process.